News
---
Latest...
At the moment - Vale Park railings - each Sunday through August 2017 1.00 - 4.00 (weather permitting)
CAVE exhibition: July 2017 West Kirby. This was a great chance to put together a whole set of prints where the titles formed the statement. The good news is, you can now see the whole thing on the website (see homepage, latest).
---
Summer 2016. Back at Vale Park Railings for the 55th Wallasey Arts Society Outdoor Exhibition. Weather permitting, as usual. The dates are Sunday's August 7th, 14th, 21st and 28th. 1pm till approx 4pm.
Wirral Open Exhibition 2016: Sat 2nd April to 8th May 2016. Check their site for opening times!
Photo showing: Left is 'Testing a Higher Ideal, Right is 'The Circus Games'.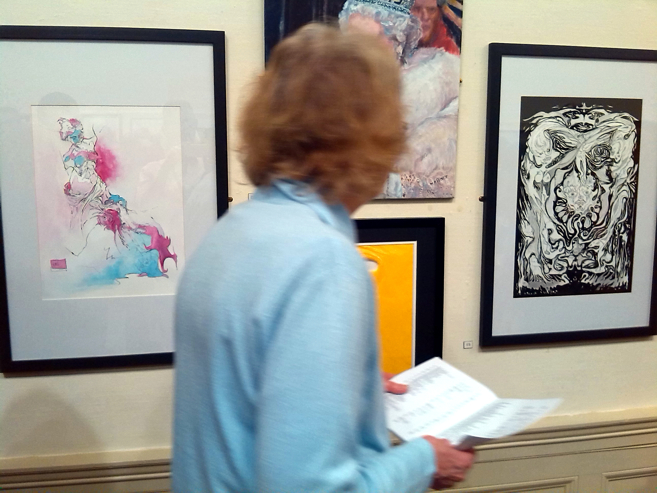 WSA Members Exhibition: Sat 19th September to 18th October 2015 Williamson Art Gallery, Birkenhead.
Photo from Private View held on the 18th Sept. Mine are the two black and white ink works. Left is 'Sex & Death'. Right is 'The Fear of Betrayal'.

---
Previously...
Added a WSA button on 'About'. This gives a link to my 'Wirral Society of Arts' member page.
I'll be down on the prom at Vale Park Railings again on Sunday 2nd, 9th, 16th, 23th, 30th August 2015 - 1.00-4.00pm. Weather permitting. Wallasey Arts Society outdoor exhibition. This is the 54th year we've dodged the waves!
WAS Annual Autumn Exhibition at Earlston Library. Coming in Nov 2015. Library opening hours. More info nearer the time.